V. Hydrans


The dominant life form of Beta Capi C 4 is the Hydran, an upright triped carnivore, trilaterally symmetric. Approximately 1m in height and massing about 35 kilograms, a Hydran's body structure is carbon-based, but with silicates replacing calcates for bony structures. Their internal organs are multiply redundant, usually formed in triplicate with one effectively a 'spare' and even a single organ type capable of sustaining basic life functions.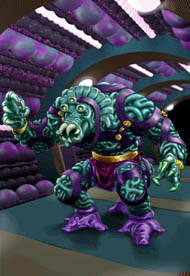 Metabolism is very fast by galactic standards, resulting in great strength, endurance, and impressive recuperative powers, but an attendant need for large quantities of sustenance if the Hydran is to maintain peak efficiency. A mechanism exists for 'starvation' survival, but that mechanism greatly reduces the ability of the organism to operate at full efficiency for more than the briefest of bursts.

Evolutionary records seem to indicate that the Hydrans evolved from an amphibious ambush-hunting carnivore that gained more dexterous hands and the beginnings of tool use and technology as the oases of its continent became smaller and more rare over a period of some millennia. Initial social structure was family-clan based, centered around a single dominant individual, either male or female. The third, Matriarchal, sex filled a role similar to that of a priest or other religious leader, in as much as they were the social glue and keepers of tradition.

Evolutionary selection has lead to a less and less 'sentient' Matriarchal, though in truth the 'Modern' Matriarchal is almost another alien species unto itself, at least mentally. Research seems to indicate that the Matriarchal Hydrans are purely emotional, empathic, and to some degree telepathic creatures, surviving by the efforts of the males and females but playing some poorly-defined but definite role in maintaining Hydran social forms, culture, and possibly survival.

According to unofficial sources, the average Hydran lifespan is approximately 270 Earth years. Given their environment, it is hypothesized that genetic engineering and selection has been involved in increasing the average lifespan. Hydrans have not been a space-faring civilization long enough to evolve an extended lifespan in response to their lessened environmental pressure as a few other galactic races have. This is noteworthy since, due to the very well developed Hydran natural regenerative capacities developed in response to the hostility of their native environment, when the environmental pressures of life on Hydrax are removed (i.e., by living on starbases, starships, etc.), Hydrans tend to live for a very long time. That said, if you are a Hydran fighter pilot, that 270 Earth year lifespan doesn't really matter much...

The importance of religion cannot be understated in the Hydran culture. The extremely violent natural forces of the planet, coupled with the presence of extremely large (500m+) native life forms created an impression upon the Hydran psyche that, though seeming to fade for a brief time in Hydran history, was reinforced completely when space travel revealed the existence of very large, very powerful interstellar organisms, the 'Star Beasts'.